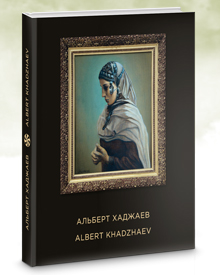 ---
CONTENTS
About Аlbert Кhadzhaev S. Gamzatova [RU]
The magical worlds of Albert Khadzhaev V. Patsyukov [RU]
Painting
Drawing
Books design
Photos
Biography
Supplements
---
ABOUT ALBERT KHADZHAEV
Albert Khadzhaev is the Honored Artist of the Russian Federation, the Honored Artist of the Republic of Daghestan.
The name of this remarkable artist is among the most considerable and honorable modern Daghestan artists. The career of Albert begins in the 1970s and proceeds now. His works always present the result of long thoughts and creative search. The artist works in different art genres. He has subject works, landscapes, but the favourite genres of A. Khadzhaev are portrait and still life. The portrait gallery created by Albert for these years is very considerable: the portraits of historic figures of the past, friends and relatives of the artist, eminent persons of the Daghestan culture, contemporaries of Albert: Ahmed Tsurmilov, Tariyat Kapiyeva, Dzhaminat Kerimova.
A. Khadzhaev's still lifes painted in the specific painting technique sfumato are imbued with the special atmosphere, they radiate special light and flicker on a smooth surface of canvas.
The important side of the creative work of the artist is his talent as an illustrator. Albert has made design for more than 200 books. Including «My Daghestan» by Rasul Gamzatov, «Our Strength» by Suleyman Stalskey, «A flower on the snow» by Shaza from Kurkli, «Peace be with you» by Yusup Happalaev, «Plutonium» by Vladimir Obruchev, etc.
The powerful contribution in the maintaining of Daghestan culture was made by Albert Khadzhaev. His pupils Adil Astemirov, Arsen Kurbanov, Timur Suleymanov, Izbat Urudzheva carry on the best traditions of Daghestan fine arts with dignity, and at the same time they could find their own art style.
The art world created by Albert steadily admires the viewers, touches them by the distinguished beauty and poetry. I think our readers will discover this wonderful world created by A. Khadzhaev with great pleasure.
Salihat Gamzatova
Honored Worker of Culture of the Republic of Daghestan,
Director of State Budgetary Institution Daghestan Museum of Fine Arts named after P. S. Gamzatova
---
Вы можете обсудить книгу, и возможно задать вопрос автору в

Facebook группе "Книги. Издательство. Репринт.".
Также в этой группе можно узнать о новостях Издательства книг PRESS-BOOK.RU.